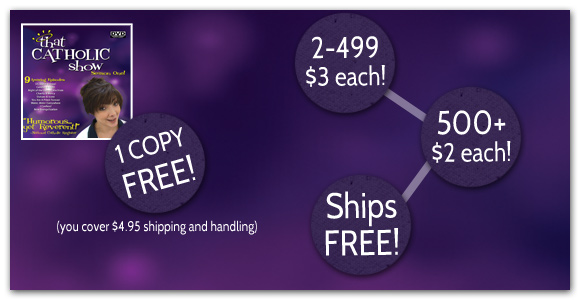 WHAT'S THAT CATHOLIC SHOW:
That Catholic Show is perfect for parishes, individuals, families, and dioceses to help explain different tenets of the Catholic faith.  With nine episodes in all, these are great for starting classes and conversations about the Sacraments, the Catechism, and other Catholic practices.  Episodes include:
Sit, Stand, and Kneel
Night of the Living Catechism!
Charity and Mercy
You are a Priest Forever
I Confess!
New Evangelization
...and more!
These DVDs are available in bulk quantities at a massive discount for you to give away freely to whomever you meet. Buy copies for every member of your parish or every parish in your diocese.  Note: No items from New Evangelizers may be resold or repackaged.  These are only intended for free distribution to others.
DONATIONS FOR SHIPPING:
For online orders, though one copy the DVD itself is free, the rising cost of processing orders online and shipping them out requires us to collect a minimum $4.95 donation to go toward our expenses for shipping and handling.  If you would like a free DVD without making a donation for shipping and handling costs and YOUR SHIPPING ADDRESS IS WITHIN THE UNITED STATES, please fill out this form and mail it to us at:
Rosary Army Corp.
258 Beartooth Pkwy, Suite 100-150
Dawsonville, GA 30534

Updating...