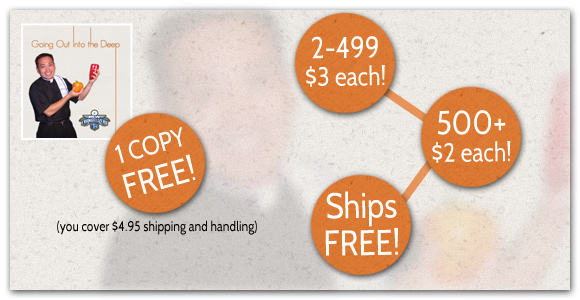 Join worldwide popular speaker Fr. Leo Patalinghug on an adventure of diving into the deep for the purposes of evangelizing souls for the Catholic Church. Funny, relevant, and completely reverent, Fr. Leo's enthusiasm and excitement for Catholicism will inspire you to find more small and large ways to stretch your spiritual muscles to share the faith with family, friends, and loved ones. Get ready to dive deep!
Note: No items from New Evangelizers may be resold or repackaged.  These are only intended for free distribution to others.
For online orders, though one copy the CD itself is free, the rising cost of processing orders online and shipping them out requires us to collect $4.95 for shipping and handling. If you would like a free CD with no processing or shipping costs and YOUR  ADDRESS IS WITHIN THE UNITED STATES please fill out this form and mail it to us at:
New Evangelizers, Inc.
258 Beartooth Pkwy, Suite 100-150
Dawsonville, GA 30534

Updating...