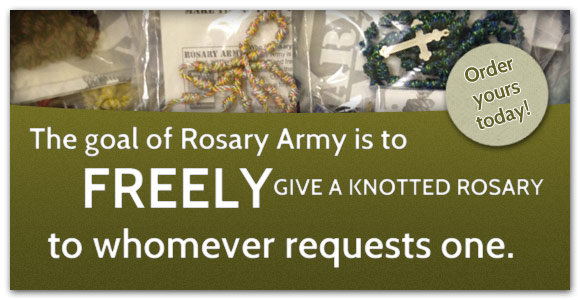 TO REQUEST ONE FREE ROSARY BY MAIL:  please print and fill out this free rosary form and mail it to us at:
ROSARY ARMY CORP.
258 Beartooth Pkwy, Suite 100-150
Dawsonville, GA 30534
Please allow up to 6 to 8 weeks for processing.
FREQUENTLY ASKED QUESTIONS:
If I don't have access to a printer, how can I request my one complimentary rosary? Clearly handwrite your rosary request and mail it to the address above.  Make sure to include your full United States mailing address and contact information.  If you would like additional rosaries for you to distribute to family or friends, please include a minimum tax deductible donation of at least $4.00 in U.S. cash or check made payable to Rosary Army Corp. for each rosary being requested.
Can't I just email Rosary Army my request for a free rosary? Unfortunately, no.
Can I ask Rosary Army to send a complimentary rosary to or on behalf of someone else? Unfortunately, no.
If I am an inmate or prisoner, can I also receive a complimentary rosary? Unfortunately, no. Correctional facilities will not allow our all-twine knotted rosaries into the facility because the physical materials the rosary is made out of can be used in a harmful manner.

Updating...