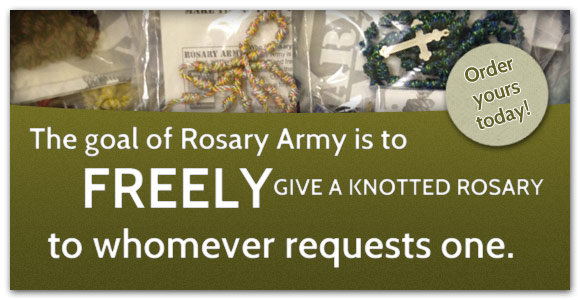 The goal of Rosary Army is to send out one free knotted Rosary to whomever requests one. We Make Them. Pray Them. Give Them Away. Our hope is that once you receive and start praying with a knotted Rosary, you might be inspired to make them yourself. To help encourage you, every Rosary we give away comes with a printed copy of our instructions as well as a piece of practice twine.
I agree to have the Rosary sent to me only, rather than having Rosary Army send the Rosary unsolicited to someone else.
I will sign the request form to verify that the Rosary is being sent to me.
I agree not to send multiple Rosary requests in multiple envelopes or orders (i.e., "playing the system"). ONLY ONE FREE ROSARY PER SHIPPING ADDRESS.
I agree that I will never sell or re-sell any Rosaries I receive from Rosary Army, whether I made a donation to Rosary Army or not.
TO ORDER ONLINE (fastest method):  Though the Rosary itself is free, shipping and handling is not included.  Please allow up to 30 days for processing. If you want an update on your order progress, please email your inquiry to: email@newevangelizers.com for an estimated shipping date.
TO ORDER BY MAIL FOR FREE (slower method): If you would like your ONE FREE ROSARY without donating any funds to assist us with shipping and handling costs, please print and fill out this free rosary form and mail it to us at:
New Evangelizers, Inc.
258 Beartooth Pkwy, Suite 100-150
Dawsonville, GA 30534
Please allow up to 6 to 8 weeks for processing.
FREQUENTLY ASKED QUESTIONS:
If I don't have access to a printer, how can I request my one complimentary rosary? Clearly handwrite your rosary request and mail it to the address above.  Make sure to include your full United States mailing address and contact information.  If you would like additional rosaries for you to distribute to family or friends, please include a minimum tax deductible donation of at least $4.00 in U.S. cash or check made payable to New Evangelizers, Inc. for each rosary being requested.
Can't I just email Rosary Army my request for a free rosary? Unfortunately, no.  Individual rosary requests must come through either the online ordering system on this page or through a written request sent to the P.O. Box address above.
Can I ask Rosary Army to send a complimentary rosary to or on behalf of someone else? Unfortunately, no.
If I represent a church or religious school inside the United States, can I place a bulk order of rosaries for my organization? If the current inventory can support an order of your size, Rosary Army would be happy to help. Rosary Army has a separate bulk order protocol that is available upon request.  Please send your bulk order inquiry to email@newevangelizers.com and include the details of your organization and the event the rosaries are needed for.
If I live outside of the United States and need lots of rosaries for a poor or under-privileged area.  Can Rosary Army provide them?  It's possible.  Please send serious inquiries to email@newevangelizers.com for a shipping estimate and pre-pay arrangement.
If I am an inmate or prisoner, can I also receive a complimentary rosary? Unfortunately, no. Correctional facilities will not allow our all-twine knotted rosaries into the facility because the physical materials the rosary is made out of can be used in a harmful manner.

Updating...