Editor's Note: Today we welcome Marianna Bartholomew for a special guest post. Marianna is a wife and mom from the Chicago area who also homeschools, teaches, and writes. She's award-winning journalist and contributor to the Catholic Vitamins podcast. She blogs at Finer Fields and Dalit Journal.
When statehood tensions rocked Andhra Pradesh, India, this past July, missionary friend Fr. Varghese sent me an email describing strikes, closed shops and protests  — and how he had blessed homes that day.
"I covered 10 houses," wrote the priest. Villagers were "happy that I prayed and blessed them. Some gave me milk to drink."
That next day of power outages and roadblocks, Fr. Varghese presided over a wedding.
Being friends with a missionary in India changes everything. Fr. Varghese found me online a year ago by searching pro-life issues. Up popped Deacon Tom's and Dee's Catholic Vitamins site, affiliated with Star Quest Production Network. For two years, I've contributed "Missionary Moments" to this great team's hour-long podcasts.
With no audio on his old computer, Fr. Varghese couldn't listen. But in my profile, he read I was former Managing Editor of Catholic home mission EXTENSION Magazine. Facing many struggles in mission work, he emailed me. How might he better reach scattered Catholics in his five outposts?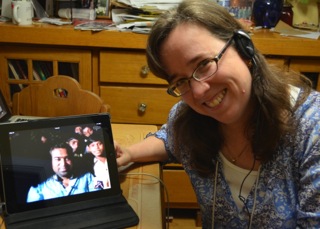 Me, advise a priest? In an area less than 2% Christian, Fr. Varghese offered daily Mass, evening Scripture and prayer, Friday Rosaries, and Eucharistic Adoration. He visited prisons, hospitals, and homes; gathered youth for blood drives and recruited volunteers for mission upkeep. During Holy Week and Advent, the priest and his faithful processed through town, praying and singing. In monsoons, Fr. Varghese carried children through floods to safety. When a neighbor's thatch-roofed house caught fire, he burned his legs dousing flames. What could I do, but encourage him in such faithful heroism?
That answer came, in time. Father's and my first contacts blossomed into frequent emails and online text chats. Raised in forested Kerala, he told of scaling coconut trees as a youth and being bitten by snakes. At his current location west of Kakinada, he lost a beloved dog to a cobra the priest bludgeoned in his bathroom.
India's steeped in oral tradition, said Fr. Varghese, plying his new journalist friend with tales. He described daily life and missionary needs in an area rife with political terrorists, anti-Catholic militants, and worshippers of idols such as monkey god Hanuman.
Working to master new words like Malayalam (Fr.'s language) and Visakhapatnam (his diocesan see), I began to blog and podcast tidbits about my friend. I posted updates on Facebook, wrote the poem Bridging Souls, "For Fr. V. and ever-green peace," and never longed for peace so much in my life. News of turmoil in nations like Egypt, Syria, Pakistan and Kenya cut deeply.
Third-World suffering now had a face. I had a friend whose motorcycle and Mass kit were burned by militants.
This friend lives across the Atlantic Ocean and two seas, off the Bay of Bengal. Before we met, I didn't know this was the largest bay in the world. Perspective: Fr. Varghese offers this to my family and me daily.
The world is so much larger than suburban America. Our online connections keep my husband, children, and I on our toes, as we communicate with someone from such a different place.
When 116-degree F. temps hit east central India and more than 100 people died of heatstroke this summer, my family united spiritually with Father in praying for relief. When landslides and floods killed nearly 6,000 people in northern India this June, and Cyclone Phailin (the largest cyclone ever recorded over the Indian Ocean) made landfall October 12, we prayed for the lost and suffering. In the car, my children and I pray Psalm 91 (a special psalm for protection) and the Rosary. In times of crisis, we turn to the nine-Memorare novena and Divine Mercy Chaplet. We put family first, as Fr. Varghese urges. But then we target needs of our missionary family in India – and all suffering missionaries and faithful worldwide.
Fr. Varghese's love for all and his courage in the face of possible martyrdom helped propel me into attending daily Mass. Friends with a missionary? I'd better put my spiritual house in order.
Now, prayers unfold more naturally, as little labors of love. It begins when I first awake, on my walk to Mass and during the Consecration of the Eucharist — and continues through daily duties. A tough sink of dishes to wash? Piles of paperwork? A tedious drive? I'm learning to offer it up. "Dear God, bless Fr. Varghese and all missionaries and faithful in treacherous lands…"
I know by name and have met by video chat Fr. Varghese's missionary friends: Fr. Sridhar, pastor of five missions on the Bay of Bengal; Fr. Bhaskar, reopening a jungle mission closed to bomb threats; Fr. Peter, an inspired young musician serving at the cathedral in Visakhapatnam; and the list goes on.
More frequently now, I sing praise and worship songs. I imagine the tuneful prayers raining gentle blessings over India and beyond. I keep twine in my pocket and fashion knotted cord Rosaries, learned when I talked about Fr.'s work to a local Rosary-making group. My one-time visit led to me joining the group and making Rosaries for missionaries like Fr. Varghese, who deeply relies on the Rosary in his ministry. I'm wife, mother, and writer, but also 'co-missionary,' as I sing, pray, and write with new vigor and focus.
But have I made a difference in Fr. Varghese's life? He says so, and appreciates what he calls his "friendly circle" in America. When I tell friends, family, bank tellers, and whoever will listen about Father's efforts with the Dalit or "Untouchable" peoples, many are moved to tears. Some pray. Others have helped buy rice and lentils to feed Father's hungry, and saris for poor widows. Dozens have made or collected Rosaries.
One of my favorite photos shows a line-up of little boys on a wall at Holy Family Mission, all grinning and wearing proudly Rosaries from America. They don these blessed sacramentals as spiritual protection from idol worshippers.
An uplift came to Fr. Varghese this past July after my friend Nanette suddenly leaned forward over coffee and exclaimed, "You have to tell Fr. Varghese about the St. Louis de Montfort Consecration!"
This Marian devotion lived by our beloved Pope John Paul II had changed my life years prior. Deacon Tom had also mentioned he was making his consecration to Mary with his wife and faithful at church. Renewing my De Montfort Consecration was already my plan. With Nanette's encouragement, I emailed Fr. Varghese a simple invitation.
"I want to draw closer to Jesus," he responded. On the feast of St. Thomas the Apostle, a saint beloved in India, we both began our 33-day consecration prayers to Jesus through Mary. I emailed Fr. Varghese daily meditations, since he lacked the book, and we both completed the spiritual exercises. Mid-way, I received this phone text: "Consecration Happiness." Actually, Father's aging cell phone buttons were broken, so his message looked like this: "Concec®ation ha§inecc. Thanc u."
I am friends with a missionary in a "hot spot" — a region of grinding poverty and troubled peace. Pope Francis encourages us to a radical love and a mission focus this October. May faith and friendship overcome every need and divide in this world!
Philippians 4:7 "Then the peace of God which surpasses all understanding will guard your hearts and minds in Christ Jesus."
This piece is adapted from posts first appearing at Finer Fields and Dalit Journal.
Copyright © 2013, Marianna Bartholomew