I love novenas. They're a focused way to pray and a way to pray that I always feels makes a difference. Instead of a vague, "Yeah, I'll pray for you," it gives me something tangible to do with a set start and stop.
But oh, I hate trying to come up with a way to remember that I'm praying a novena (and I hate that I even have to admit that). I hate the pressure I put on myself about them.
Thanks to Pray More Novenas, though, I have a help for my novena-praying that reaches me where I am: my inbox!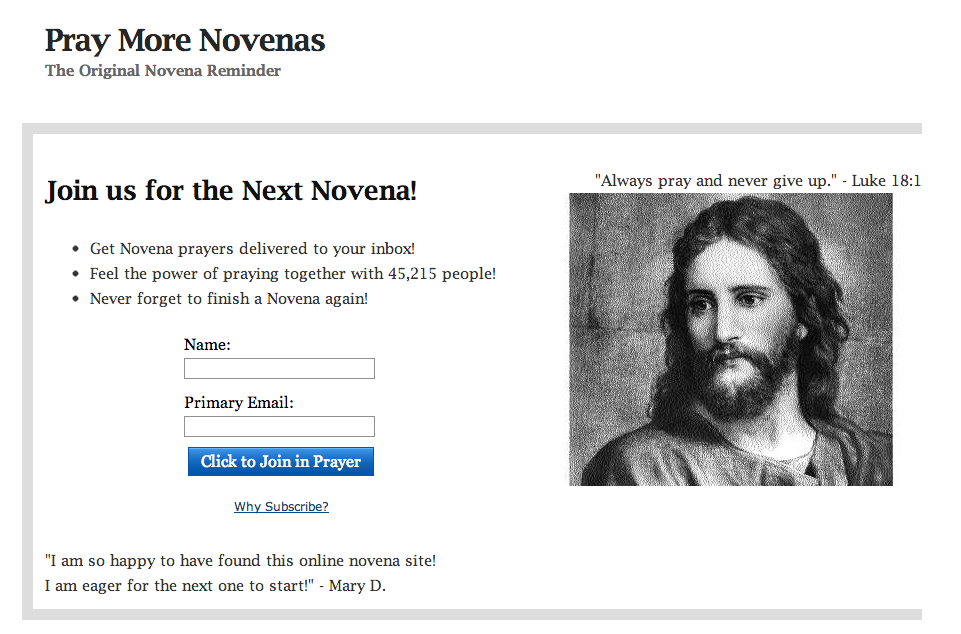 John-Paul Deddens started the initiative years ago, and he has since grown it and gotten married (which was the cutest stinkin' thing to pray for, lemme tell ya). He and his wife, Annie, are using Facebook, Twitter, Google+, and even Pinterest to get people to pray more novenas.
Have I mentioned I'm a BIG FAN?
When a novena is in process, they'll have upwards of 20,000 people praying together. When a novena isn't in process, you can use the listing of past novenas if you have a hankering to pray one.
In a recent email, John-Paul wrote,
When I first started Pray More Novenas, I thought it would be helpful to others, but I didn't realize how much people would love it!

God has really used this prayer reminder service to bless a lot of people!

In fact, Annie and I get emails all the time from people […] who have been blessed by these prayers.
By my calculations, a novena should be starting sometime soon. Don't miss the blessings that will come from joining this vibrant prayer community!
Copyright © 2013, Sarah Reinhard