In a brief review of Vinny Flynn's 7 Secrets of the Eucharist, I wrote that it is a "conversational and easy read that is in no way light in weight," one that "feels like a passionate conversation… rather than a theology tome."
Vinny Flynn has accomplished the same feat in his latest book, 21 Ways to Worship.  It's conversational, accessible, and faithful.  It's a "personal sharing," as he puts it in the foreword.  He comes across in the same passionate tone that someone might use to tell you about a sport or TV show they watch religiously (if you'll forgive the pun).  They love it, and they want you to love it too.
Will you use all 21 ways?  Will you like all 21 ways?  Maybe not. Not every "way" will be for every person, but this book is like a good cookbook: it doesn't give you steps to blindly follow. Rather, it gives you examples, tools, and ideas so you can personalize what you do. I think Vinnie would agree that its more important that you do it, rather than how you do it.
Vinny encourages you in the that and gives you plenty of examples of the how, in a very real, personal, and often funny (even a little punny) way.
So, bottom line… Who is this book for?
It's for new evangelizers.
If we're not bringing people into a relationship with Christ, what are we doing?  A good relationship takes more than an hour a week, and it takes not just knowing about the other person but really knowing them.  Listening to them.  Being with them.  This book isn't about evangelization, but it's about the purpose of evangelization – a deeper relationship with God.
It's for theology geeks. 
If you're like me, you could spend all day in theological minutiae or debating some point of philosophy… only to realize you've not gotten around to actually praying.  You know… doing things with all that book learning.
You'll find ample quotations from John Paul II and Benedict XVI, citations from Sacred Scripture, and excerpts from St. Faustina's diary. The book is utterly orthodox and has enough recommended resources to keep you reading for quite a while.  (There were quite a few references to  another of his books, 7 Secrets of the Eucharist, which would put me off more if 7 Secrets wasn't also excellent.)
There is also a lot of practical wisdom – that get-up-and-do-it that we can too easily miss.
It's for you.
Yes, you. You don't have time to read a long religious book, but you can manage two pages – two pages that will get you thinking, get you praying, and give you something practical you can do right now for your spiritual life.  There are chapters for when you have just a little time and for when you have a little more.  There are chapters for when you feel like talking or singing, or when you have nothing to say; for when you have lots on your mind or nothing to say.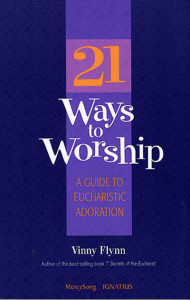 Give Vinny Flynn a chance. Read the first chapter. Right away, you may find yourself worried, as I was. "He wants me to take off my shoes?  Uh oh. This is going to be weird."  No, what he really wants is for us to let go of the things that keep us from really entering into God's presence.  The chapter is a five minute read – a small thing that can be a huge thing, if you let it.
So what are you waiting for?  You don't have to be at adoration to adore!
Would you like to win a copy? 
I'll be sending a copy of 21 Ways to Worship to a randomly selected commenter. Comment by May 31, 11:59pm EST. One comment per person, please.
What do you like to do during adoration?
How can the new evangelization spread love of the Eucharist and participation in Eucharistic Adoration?
Can't wait?  Get your copy now
Copyright © 2013, Joe Wetterling
2 responses to "Learning 21 Ways to Worship (& a Giveaway)"